Despite the industry's best efforts to modernise and 'professionalise' sourcing practices, project management and service delivery methods; over 70% of significant business relationships or large projects continue to fail to meet their objectives.
This is because organisations in both the public and private sector rely on vendors who continue to provide their products and services based on static requirements determined at a specific point in time. Relationships that are structured around these types of models inevitably fail because a 'single transaction' approach does not consider the natural evolution of needs and stakeholder capabilities.
Need to manage VUCA differently
The fundamental issue is that there is a major misalignment between our business environment and the management models we use to manage complex business arrangements and projects. We live in a world of increasing volatility, uncertainty, complexity and ambiguity; and yet, we continue to use rigid, inflexible and adversarial models of management. While many factors contribute to this high rate of failure, the misalignment is rooted in organisational silos, rigid transactional orientation and poor oversight models of management.
The challenges are further exacerbated in Public-Private Partnerships (PPP). PPPs are modelled after the UK PFI (Private Financing Initiative) and were initially introduced to address deficiencies in the procurement approach. However, implementation models have not eliminated the risks inherent in PPPs.
The Canadian Council for Public-Private Partnerships (CCPPPs) defines both the framework and intent of a collaborative partnership between public and private entities: "A cooperative venture between the public and private sectors, built on the expertise of each partner, that best meets clearly defined public needs through the appropriate allocation of resources, risks and rewards." Unfortunately, the majority of public-private partnerships are still structured around a static single financial transaction approach that does not take into account the natural evolution of owners and consumers' needs, as well as stakeholder capabilities. In other words, once the transaction is closed, the parties attempt to pursue certainty in the long haul based on an initial set of understandings and parameters.
The UK has abandoned the PFI and PFI II initiatives, citing major problems and issues, including the following:
The procurement process has often been slow and expensive for both the public and the private sector. The performance-price discrepancy has led to increasing costs and a reduced value for money and return for the taxpayer.
There have been poor relationships between the public and private sectors which have hindered effective contract management.
PFI and PPP contracts have been insufficiently flexible during the operational period, so making alterations to reflect the public sector's service requirements has been difficult, if not impossible.
There has been insufficient transparency regarding the future liabilities created by PFI projects to the taxpayer and on the returns made by investors.
The inappropriate transfer of risks to the private sector has resulted in the public sector absorbing a higher risk premium.
Poor value for money assessment framework has undermined the genuine appraisal of the optimal delivery route. As a result, this has led to the use of PFI in projects where there was insufficient long-term certainty regarding the future requirements of services; or where fast-paced technological changes made it difficult to establish requirements for the long-term.
Equity returns achieved in some PFI projects have been too high, resulting in claims that in certain cases investors have made windfall gains at the expense of the public sector and consumers. Regarding these points specifically, Reiter & Shishler contend that "the nature of business in the new global, online economy has turned classic notions of 'certainty' and 'predictability' on their head". They then go on to say that "today, business and commerce are characterised by continuous change, speed and increasing competition requiring innovative forms of business alliances and arrangements characterised by flexibility and adaptability".
Relational Public-Private Partnerships
There is a better way: a relationship-based PPP
The relationship between all parties involved is the heart of their success. By positioning the relationship among stakeholders at the heart of planning, delivery and performance management, PPPs can be structured and managed within a collaborative and adaptive framework which drives change and improves outcomes, while lowering overall risk for all stakeholders.
Long before the mainstream recognition of the viability of the socially-oriented concept that was championed by Poppo and Zenger, we pioneered the collaborative relationship-based model in the mid-nineties and further developed and enhanced its method of implementation over a 20-year period through the success of many high-profile client relationships. The model focuses on stakeholder relationships as the pivotal point in terms of measuring performance and ongoing delivery and service management capabilities. The relational PPP model is structured around the enduring core values that are exemplified by integrity of intent and mutual or shared partner benefit. Similar to the principles that define the Six Sigma business management strategy, these tenets of success are nothing new. In fact, the main departure from Six Sigma is the model's primary focus on complex public-private arrangements.
As shown in Fig. 2 below, the overall relationship-based PPP framework consists of four (4) primary components:
Relationship Management and Collaboration System
Establishing and Operationalising a Joint Management System for:
Managing stakeholder engagement and communications
Elevating communications from one-to-one conversations to a system of coordinated and collaborative interactions
Establishing strategic management and operational alignment structures to manage the relationship deliverables, performance and risk, as well as sustainability and creation of mutual value
Working as empowered teams with accountabilities and responsibilities encompassing decision-making, delivery management, performance management, financial management and oversight processes.
Relational Contracting
An industry engagement and an open, transparent and outcome-based partner selection methodology which:
Ensures alignment of stakeholder strategies, capabilities, and competencies with overarching programme objectives.
Results in a contractual framework which recognises that the entire agreement is not complete in that it will be influenced and affected by the relationship of the parties and changes in the business, technology, economic and legal environment.
Recognises the need for flexibility to resolve unknowns and evolve and adapt to ensure ongoing alignment with the interests and priorities of all stakeholders on an ongoing basis.
Selects partners based on capability, capacity, collaborative competency, strategic fit and incentivised mutual beneficial compensation and risk/reward models.
Collaborative Working
Having the systems, disciplines, programmes and competencies needed to enable and facilitate collaboration and 'working' in teams as teams.
Collaborative Convergence
For the collaborative relationship management system to be effective, and to prevent it from becoming a paper model, it must be developed, owned, and evolved by the stakeholders themselves. The SRS Centre for Collaborative Stakeholder Relationships uses a Collaborative Stakeholder Convergence Methodology (CSCM) to develop and operationalise Relationship Management Frameworks. CSCM is a mindset shifting, adaptation process for effectively engaging internal stakeholders, overcoming organisational, contractual and competitive barriers, and achieving alignment.
This process is used for both establishing the initial relationship management system at the start of a programme or project and for onboarding the relationship with the EPCM or Operations Partners afterwards.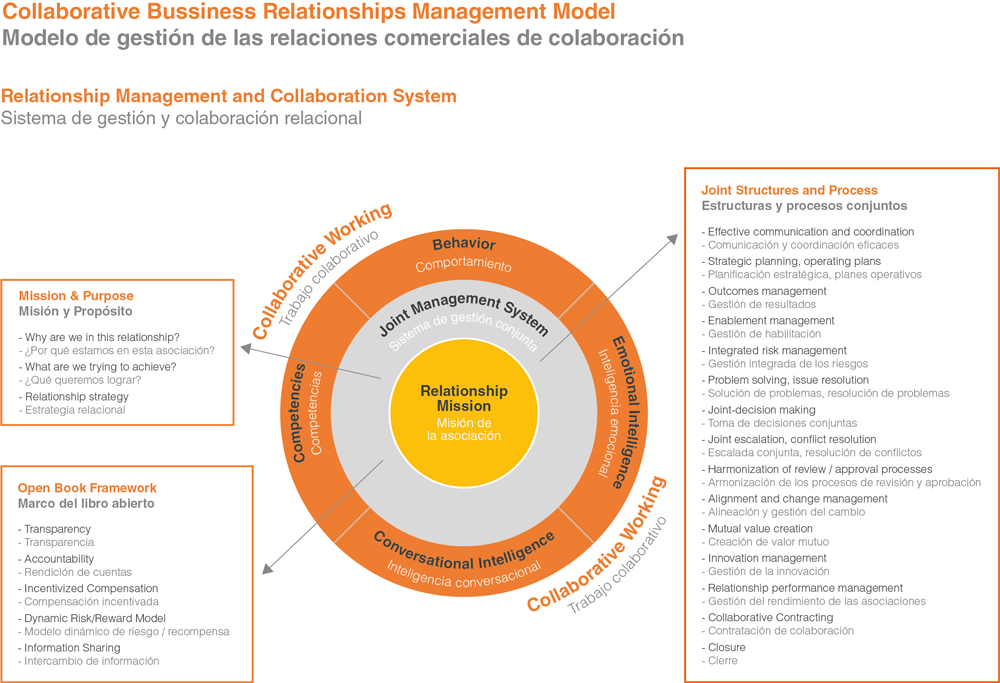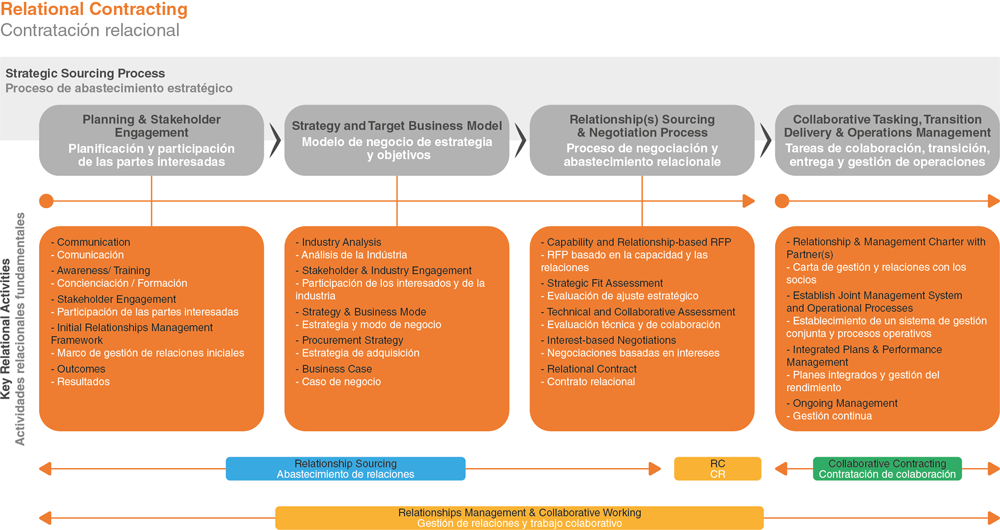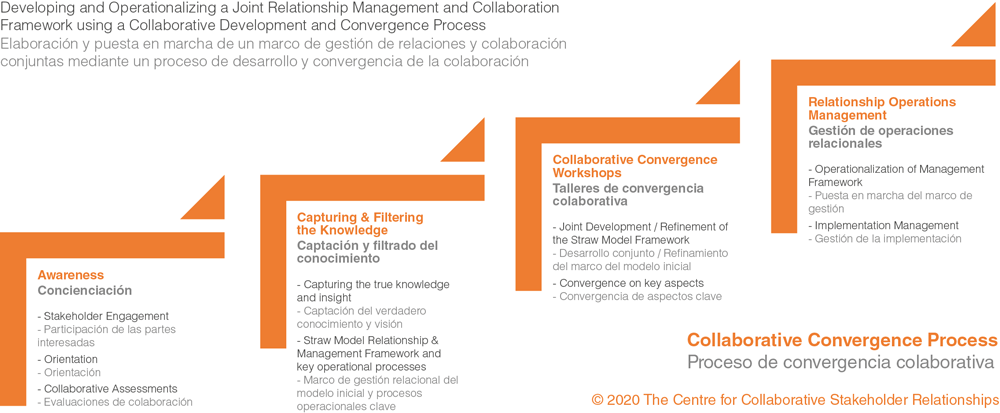 Implementation
Establishing such a collaborative and high performing relationship requires added constructs to our sourcing process, as one cannot use the prescriptive or pure transaction-oriented procurement mechanisms to source a dynamic business relationship.
Given today's business environment past, experience is not always a valid indicator of future performance. This becomes particularly important as it relates to long-term projects such as PPP, especially projects with many known unknowns requiring the parties to work closely together to gain certainty or to take advantage of technological change. In this case, a closer examination of the vendor's strategy and core capabilities, and how they align with the initiative's objectives, are paramount to determining the likelihood of the ultimate success of the relationship.
Beyond these needed checks and balances, the relational model sourcing process advocates an intense industry analysis and engagement before, during and after the actual procurement. This involves the application of advanced analytical tools to objectively assess and evaluate the fit between a vendor's strategy, core capabilities and the initiative's expected outcome.
Existing Relationships
It is never too late to take advantage of the relationship-based approach. Programmes that are underperforming and hindered by an adversarial model of management can take advantage of the model by using the collaborative convergence process mentioned previously. The process has helped many organisations to move from a fundamentally static, transactional and adversarial relationship to a high performing, adaptive and dynamic business arrangement.
An ISO 44001-based Methodology
The Relationship and Collaboration System described above is an effective collaboration model that supports the development and administration of a dynamic, adaptive and collaborative business relationship between collaborators to achieve common goals and create mutual value. The model and its implementation methodology operationalise ISO 44001 effectively. Collaborative Business Relationship Management is a standard published in March 2017, which describes the organisational requirements to enable collaboration and provide guidance for establishing relationship management plans with strategic collaborators.
Not a Replacement, but a Missing Ingredient for Achieving Greater Success
What makes it particularly attractive for the public sector is that the relational model is in effect, injected into a public sector procurement regime or a PPP process as a complementary module. This means that it is not a replacement for the existing sourcing or procurement process, but is instead a result facilitator that has been missing from the business arrangement. To put it another way, the relational model does not radicalise the public sector procurement process, it complements and enhances its effectiveness.
The relational model has been employed for over 20 years in various industry sectors. The key areas of benefit realisation include the following:
Agility – Provides public sector with the flexibility and agility to respond to current government priorities and business conditions without being subjected to gruesome change order procedures
Increases Probability of Success – Provides a collaborative framework to manage change and volatility and for working together to resolve unknowns. Establishing the Relationship Management Systems from the outset facilitates much needed alignment within the public sector leading to shorter timelines and a more effective procurement
Reduces Risk – Provides a joint, collaborative and insight-based framework to identify and manage risk
Lower Procurement and Transition Costs – Provides an opportunity to source and manage multi-transaction relationships. This implies sourcing a relationship with one or more partners and then collaboratively undertaking a series of transactions or projects within the relationship
Creates Added Value – Provides an opportunity to collaboratively examine change as an opportunity to improve outcome and not as a risk to the programme as understood initially
Better Value for Money – Eliminates contingency fund allocation at the line item, project, and programme levels
Financial Certainty – Provides more financial certainty to all parties and lowers the overall risk carried by both public and private partners. The incentivised dynamic risk – reward allows for allocation and reallocation of risks and rewards during the relationship
Consumer Protection – Provides more effective mechanisms for consumer/end user protection.
In conclusion, while a high level briefing such as this is effective for providing an understanding of the core elements of the relational or relationship-based business model, it is through a true collaborative effort that the results referred to above can be achieved.
References
Reiter & Shishler, Joint Ventures: Legal & Business Perspectives (Irwin Law, 1999), p. 3-4.
//
Andy Akrouche i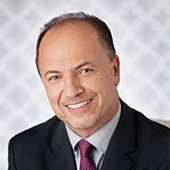 s the founding partner of Strategic Relationships Solutions Inc. (SRS), a knowledge-based Procurement, Partnerships and Relationships Management firm. Citing the failures of many complex business arrangements, Andy pioneered the Relationship-based Model of Management in 1995 while serving as Vice President of Outsourcing Management Services at Digital Equipment Corporation with the aim of revolutionising the framework within which strategic business relationships are sourced, structured and managed. Andy delivers executive seminars and training programmes for ISO 44001 Implementations, Relationship Management, Relational Contracting Management, Outsourcing, ASD, Commissioning and PPP Management. He is the author of the book "Relationships First: The New Relationship Paradigm in Contracting".