Electronic Monitoring (EM) in the criminal justice sector has experienced a tremendous growth over the last decade (+140% between 2005 and 2015 in the US), and virtually every country in the world is currently looking into setting up, renewing and/or expanding its EM infrastructure. The financial and social benefits of using such a technology as a viable alternative to imprisonment are a no-brainer: EM provides a secure, easy-to-implement and cost-effective solution to prison overcrowding while delivering significant improvements in terms of rehabilitation success and reduced recidivism (source).

But the picture is not all rosy. Indeed, EM solutions have been historically undermined by quality and performance issues that impact the effectiveness of the system (false positive alarms that overwhelm correctional officials), the security of the devices (tamper-proof devices that can be circumvented), and ultimately the user's ability to hold down a job (because of technical glitches and false alarms).
It turns out that this is exactly what motivated GEOSATIS creation back in 2011. Indeed, the electronic bracelet from GEOSATIS has been developed from the ground up with an un-rivaled technology expertise in terms of hardware and software design that challenges the status quo and delivers radically better products than those of our competitors – more ergonomic, more secure and more reliable.
GEOSATIS has now deployed several thousand units of its bracelets among many different customers around the world. Most of these customers are experienced EM users who have been using solutions from other vendors in the past, systematically experiencing the relative unreliabilities of these products – on top of receiving poor customer service and support. Their decision to go for the GEOSATIS solution was mainly driven by this expectation to have an EM solution that is more reliable and therefore more secure – and they haven't been disappointed.
But GEOSATIS doesn't rest on its laurels. On the contrary, it continues to listen to its customers to further improve its products and raise the bar even higher when it comes to EM security, reliability and design and ergonomics. This ambition is now crystalised into the second generation of its production line, with a brand-new electronic bracelet that will bring EM to the next level:
Ultimate location tracking precision and availability, using up to 4 different geo-positioning satellite systems (GPS, Galileo, GLONASS and BeiDou),
Ultimate security thanks to the most robust, virtualy un-cuttable bracelet with a unique rigid toroidal design, a higher level of encryption and sophisticated multi-sensor tampering detectors;
Ultimate convenience thanks to an easy-to-use, comfortable, and ergonomically designed bracelet that is lightweight.
This new product will be released in 2019 and GEOSATIS has already received a lot of interest from both existing customers and prospects.
GEOSATIS offers a secure, reliable, convenient and cost-effective full range electronic monitoring solution (ankle bracelet, indoor base station, victim protection device, monitoring software and mobile app, and predictive analytics services) for enhanced public safety, successful offender rehabilitation and reduced recidivism – using Swiss precision, quality and innovation.
//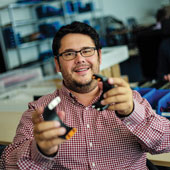 José Demetrio is the founder and Chief Executive Officer of GEOSATIS. He holds education in electricity and technical certificates in specialised security applications. His innovative and entrepreneurial profile dates to the beginning of his career, which has unfolded, at first, in the security and safety sector. He also worked for telecom operators and contributed to the implementation of jamming solutions for prisons.
---