As COVID-19 began to spread in early 2020 – reaching a pandemic state – it quickly became clear that jails and prisons were particularly susceptible to the spread of this virus. In response, criminal justice systems worldwide began looking for alternatives to incarceration. Electronic monitoring via Global Positioning System (GPS) or radio frequency (RF) monitoring was an accessible and respected solution. This technology allowed qualifying prisoners to be released from incarceration to the relative safety of their homes, while still being monitored. At the same time, courts around the world began experimenting with the use of electronic monitoring for an entirely different purpose: enforcing quarantine orders. 
Unfortunately, COVID-19 has decimated many businesses and industries worldwide over the past year; however, electronic monitoring manufacturers have not been that affected. In many cases, they have experienced an uptick in business. Governments worldwide have released record numbers of prisoners, fearing that the pandemic poses undue health risks to inmates, resulting in approximately 25% to 30% more inmates being released on electronic monitoring than over a year ago. GEOSATIS is the sole electronic monitoring provider in the world capable of respecting pandemic social distancing rules for offender device installation and removal. 
Thanks to its unique design and technology, the GEOSATIS GPS device allows the offender to install it themselves under the direct surveillance of their supervision agency. No tools or straps required. No need for installers to cut or assemble the device, which is why the offender can set up the device within seconds. The device can also be removed by the supervision agency in compliance with social distancing rules. All it takes is to activate the remote opening command via the secure monitoring software while overseeing the offender during the process. 
The GEOSATIS GPS device truly is the only product that does not require physical contact between the supervision officer and the offender for device installation and removal. GEOSATIS emphasizes security and simplicity through advanced product design and technology, allowing for easier and safer interaction between offenders and supervision agencies. The emergency shift to electronic monitoring by prisons and jails due to the COVID-19 pandemic may signal long-term use of electronic monitoring as an alternative to custody, especially for overcrowded prison facilities dealing with potential infectious health issues.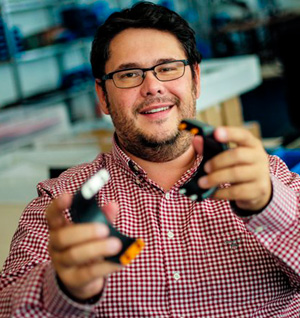 José Demetrio is the founder and Chief Executive Officer of GEOSATIS. He holds education in electricity and technical certificates in specialised security applications. His innovative and entrepreneurial profile dates to the beginning of his career, which has unfolded, at first, in the security and safety sector. He also worked for telecom operators and contributed to the implementation of jamming solutions for prisons.