With drugs entering our prison systems on a regular basis, we need to address the "elephant in the room" that is the safety of X-ray scanning.
Historically, detection methods have developed from physical pat-downs to the intrusive and humiliating strip and body cavity searches to varying levels of electronic and scanning technology. Each method has its own level of effectiveness, but the reality of prisons requires total, not partial, effectiveness.


Since 1993, when the use of X-ray technology was allowed in non-medical uses, there have been concerns over its safety, including from prison authorities.
The National Council on Radiation Protection and Measurements (NCRP, USA) recommended that the annual dose limit for the general public for continuous/frequent exposure should not exceed an effective dose of 1 mSv (excluding natural background and medical). That dose is roughly 1,000 Soter RS searches, per person, per year! That's 3 scans a day to reach NCRP recommendations. This means there is no health risk if the cumulative dose is less than 1,000 microsieverts (uSv). Later, the NCRP stated that 250 uSv – as part of the 1,000 uSv ¬ can be used for security screening without a health risk.
The American National Standards Institute (ANSI) and the Food and Drug Administration (FDA) standard 43.17-2009 Radiation Safety for Personnel Security Screening Systems Using X-Ray or Gamma Radiation, provides a chart showing dose levels, the annual number of scans and maximum annual dosage. Regulation over the use of body scanners is strict and rightly so.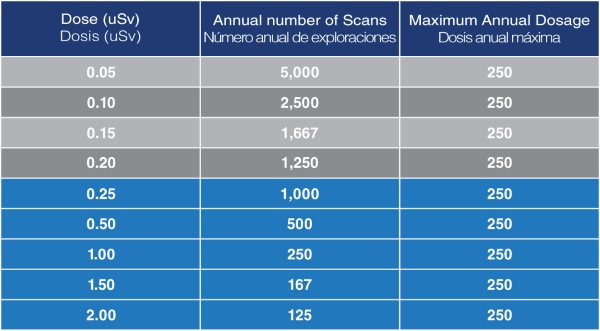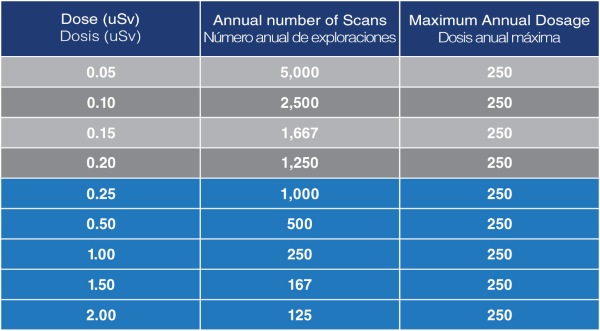 From the data shown, the Soter RS system falls safely and very comfortably within the recommended safety levels.
ODSecurity has carefully considered safety during the development process of Soter RS. Its advanced database verifies the subject's identity by ID number, or "Fingerprint Reader" before the scan, thereby managing the cumulative dose per person. Speaking on May 2019, at the 24th Council of Europe's Conference of Directors of Prison and Probation Services, in Cyprus, Jan Steven van Wingerden, CEO of ODSecurity, has highlighted the importance and benefits of using a transmission body scanner to detect any contraband trying to be smuggled into prisons including drugs, weapons, cell phones, and other prohibited items.
Contraband detection methods in prisons have changed substantially over the years and so has the role of X-ray scanning; hence the way X-ray scanners are viewed in prisons must also change. Scanning technology must respect human rights and add value in finding contraband – a body search is better justified by the scanner indicating the contraband.
Six months after Soter RS systems were installed in the correctional facilities of Ontario, Canada, sixteen scanners performed 136,600 scans, of which 4,774 were positive with finds of 10 mobile phones, 74 weapons (knives and shives) and the majority drugs. 4,690 packages: that's the massive amount of drug contraband that has been prevented from entering Ontario's prisons!
Security scanning is more effective when it eliminates unnecessary body searches whilst still enhancing drug countering in prison systems.
---
Through a sophisticated use of high-tech features, ODSecurity's Soter RS Body Scanner ensures a safe environment for both prison staff, inmates and visitors. It is a safer and more effective solution to manage the risk of contraband (be it drugs, weapons, cell phones or other items). The scanner reveals everything in ten seconds, is easy to use and achieves a high-quality scan image with a minimal amount of radiation. Fast and easy: the image shows the whole body and any contraband is revealed in it. Soter RS makes it impossible to smuggle. Different prisons around the world are already using it.
---