The judicial and corrections sector, both from academics and practitioners' point of view, has traditionally been quite cautious when it came to adopting new technologies as viable tools and effective alternatives to imprisonment – and mostly for good reasons: security, reliability, usability/practicality on the field, proved effectiveness and cost advantage, validated positive social impact.
However, things are changing as technological innovations in the field of Electronic Monitoring of offenders are developing rapidly, be it the continuously expanding satellite geo-positioning systems, the wide variety of mobile network communication standards for both connectivity and localisation purposes, the multiplication of connected sensors and trackers of all kind, the tremendous development of smartphone Apps for enhanced rehabilitation support, the increasing focus on software/firmware security and encryption to protect the whole solution from potential attacks, and last but not least, the power of big data analytics and artificial intelligence to identify trends, patterns, risk profiles, and preventive measures to further improve the effectiveness of both offenders' supervision and rehabilitation.

This technological trend follows an increased customer segmentation and the development of new use cases within the field of corrections – ranging from preventive supervision of risky profiles (potential terrorists/ radicalised individuals), pre-trial alternative handling, in-prison localisation of inmates, App-based probation supervision of low-risk offenders, secure rehabilitation of higher-risk offenders – all of which are supported by a legal framework that is evolving faster to better secure public safety while optimising the social and financial impact of the correctional system.
GEOSATIS sits at the forefront of this technological revolution: it is indeed recognised as the world's most innovative player in the Electronic Monitoring field, having shaken the industry by designing a solution from the ground up that radically challenged the status quo.
We're determined to push its technology edge even further and will soon – during the course of 2018 – announce a new version of its electronic monitoring solution with the objective to better support the judicial and corrections sector in this technological transformation.
Stay tuned and follow us on this journey to revolutionise the use of Electronic Monitoring for a safer world!
//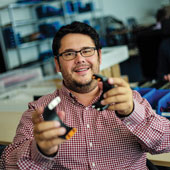 José Demetrio is a Portuguese that has been adopted by Switzerland. He began his engineering career and soon realised that he had an innovative and entrepreneurial profile. At that time he was working in the telephony sector, and he was hired to interfere with telephone communications in a prison in Geneva; that was how Geosatis arose, from an administrative and social need.
---
Advertisement