Overcoming the challenges of prison overcrowding has proven to be a difficult task for many jurisdictions around the globe.
Social pressure, obsolete legal frameworks, or low trust of the judicial operators on the effectiveness of alternatives to imprisonment, still lead to large numbers of low-risk offenders in prison, and suspects under investigation or waiting for a court decision.
The direct and indirect costs and consequences, that imprisonment of both offenders has on correctional systems – responsible for the executions of the sentences – are well known.
Given the complex and challenging reality, decision-makers throughout the criminal justice spectrum seek to "circle the square", ensuring security and safety, reducing operational costs, while improving detention conditions.
Diverting low-risk convicts from prison, or allowing early release, have proven to support social reinsertion and reduce recidivism. The use of electronic monitoring – for preventive home arrest, or supervised probation measures using real time geolocation – has proven to reduce by 1/4 or 1/5 the daily operational cost of prisons and probation systems.
Targeting low-risk inmates, older convicts, inmates requiring constant medical attention, people convicted for socially sensible crimes, or simply men and women that need to provide subsistence to their families while still needing to be supervised, Electronic Monitoring has shown to be a very cost-effective solution.
While imprisonment should remain an important instrument to ensure community safety and develop rehabilitation interventions with medium and high-risk individuals, supervised community interventions should always be, due to its high rates of success, in the mind of judges when deciding a sentence for people representing a lower risk to society.

When GEOSATIS was created in Switzerland, we aimed to respond to the specific market needs by delivering prison and probation administrations with the most secure, reliable and technologically advanced solution – as opposed to the existing obsolete solutions. That would allow us to supervise in real time individuals, while serving a sentence in prison – transporting inmates to courts or supervising the ones in open regimes – or in the community.
Our advanced, highly configurable, but simple to deploy "plug and play" solution uses RF, GPS and GSM in one single product. Being the most resistant bracelet low-risk the market, our solution is prepared to ensure several levels of security and can be remotely blocked or opened, without the need for further human local intervention.
Being concerned with individual privacy, real-time monitoring is configured to occur only in the areas and time frames defined by the requirements of the judicial decision. If allowed by law, the analysis of an individual's location and movements alone, or joint with other collected data (stress levels, behaviour patterns, alcohol or drugs use), may not only support preventive interventions by social and probation staff, but also help clear or support conviction of the ones being suspects of committing a crime while being supervised. We care about the technology, but also about the human side at the end of the line.
Our innovative approach to technology development and deployment, but also the know-how we've developed supporting prison and probation systems in some of the most complex social and political environments in Africa, Europe, the Middle-east, North and Latin America, may be of use to support your country in finding solutions to monitor inmates in prison, and reduce the existing prison population through community supervised measures. Let us know how we can help!
//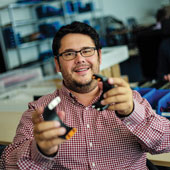 José Demetrio is a Portuguese that has been adopted by Switzerland. He began his engineering career and soon realised that he had an innovative and entrepreneurial profile. At that time, he was working in the telephony sector and he was hired to interfere with telephone communications in a prison in Geneve; that was how Geosatis came about, from an administrative and social need.
---
Advertisement