Technology Implementation Case
Singapore is an island city-state with 5.7 million residents of various races, cultures, and religions. Like many developed nations, Singapore is tackling the challenge of declining birth rates and, as a result, a shrinking resident labour force. 
The Singapore Prison Service (SPS) mandate is to enforce safe and secure custody of inmates and to play an active role in their rehabilitation. Known as "Captains of Lives", SPS staff serve as change agents and mentors to inmates and supervisees under their care to support their reintegration into society.  
With strong support from the Singapore Government, SPS embarked on its digitalisation journey by launching the Prisons Without Guards (PWG) strategy in 2017. Through PWG, SPS aims to optimise its resources by re-evaluating correctional work that has been traditionally manpower-intensive and enhance or complement processes with the deployment of appropriate "smart technology". This allows officers to be deployed for other critical work. SPS' experimental approach was to implement quick trials followed by rigorous tests and evaluations, and constantly improving on the initial prototype. 
SPS believes that digitalisation should not be merely about deploying new technologies. Other factors, such as organisational needs, end-user experience, and the readiness of stakeholders to embrace change, are key drivers of success.
The introduction of new technology is often accompanied by process reviews and business process re-reengineering. Change management strategies with senior leaders "walking the talk" are incorporated into SPS digitalisation roll-out plans to reap good organisational results.
As part of Change Management, SPS examined the end-to-end services from the point of inmates' admission to their discharge from the prison system. SPS sought to understand and improve the experience of key stakeholders in the Corrections journey: the inmates, their families, SPS staff, community partners, volunteers, and members of the public.  

Interviews and focus group discussions were conducted, and 21 service journeys were mapped in the 2-year process. The following are three of the 21 service journeys in the areas of Prison Security, Inmate Rehabilitation and Community Corrections.
Security in the Correctional Unit
Maintaining security is a key focus area in the Prison Without Guards initiative, SPS identified the need for surveillance to prevent and respond promptly to incidents such as fights and self-harm. Therefore, the Closed-Circuit Television (CCTV) was systematically upgraded across the prison institutions.  
Beyond replacing the outdated analogue system with high-definition digital cameras, the expanded coverage would encompass all areas that inmates frequently access. The application of improved CCTV technology was one of the first steps to avail officers for deployment to more critical work, such as addressing inmates' rehabilitation and reintegration needs. SPS then piloted the Advanced Video Analytics To detect Abnormal behaviouR (AVATAR) to help analyse surveillance footage.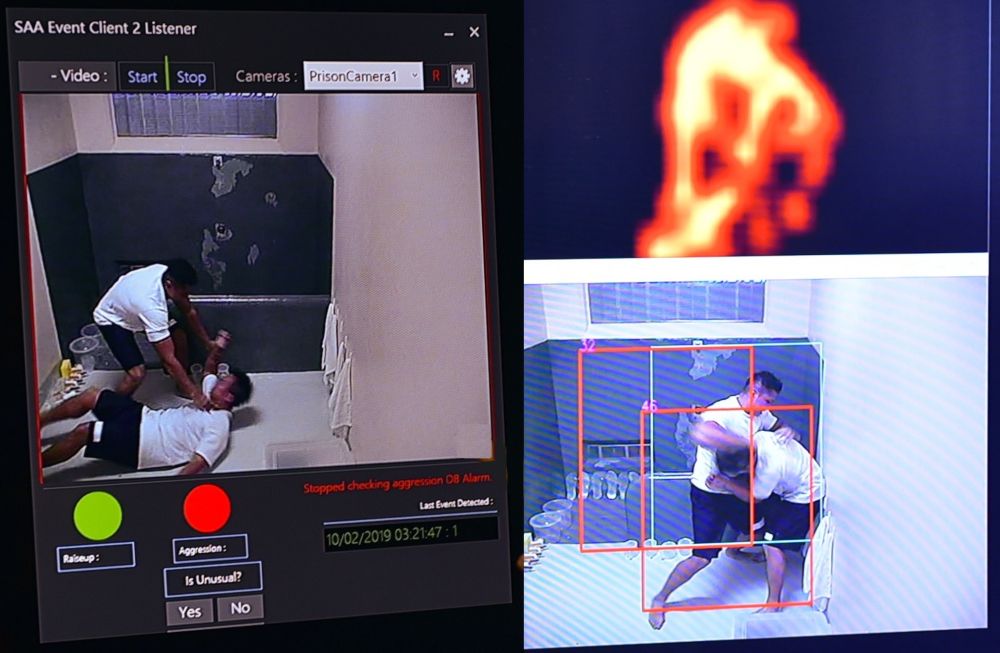 Tapping into CCTV systems, AVATAR utilises Artificial Intelligence (AI) to detect abnormal behaviour among inmates, such as fights and acts of self-harm in the cells. By analysing inmate body movements, including the frequency and intensity within a stipulated area and time frame, AVATAR alerts officers in the Control Centre to validate if an untoward incident has occurred.  
SPS has also been exploring another AI-enabled system to detect falls and fights in common areas, like passageways and stairwells. If successful, internal inmate movements could be self-facilitated, freeing up officers from routine escort duties.  
SPS has expanded its teleconsultation efforts with public healthcare institutions. This remote consultation solution, which gained popularity during the COVID-19 pandemic, ensures inmates continue receiving the required clinical care without having to be escorted to the hospitals. Therefore, security risks associated with the external movement are reduced and escort resources saved.  
Improving Rehabilitation Outcomes
Inmate rehabilitation programmes used to rely solely on in-person delivery. Interactions with the facilitator and volunteers maximise rehabilitation outcomes, but the scale and frequency are limited by scheduling and logistical constraints. As a result, SPS is looking to leverage technology to complement the conduct of physical programmes.

The use of electronic tablets is not new in corrections. For SPS, the "Digitalisation of Inmate REhabilitation & Corrections Tool (DIRECT)" project started in 2020 to host e-letters. It has progressed to be a key platform driving a new concept of operations and rehabilitation.  

Through DIRECT, inmate rehabilitation is no longer confined to the availability of rooms and trainers. Inmates can continue their programmes with pre-recorded and interactive e-content after returning to their cells through rehabilitative resources such as e-books, podcasts, and motivational videos from successful desistors. For inmates enrolled in education programmes, their notes are also available on DIRECT.

SPS also uses DIRECT to empower inmates to take ownership of their rehabilitation and reintegration progress. In a process termed "My Action Plan (MAP)", inmates are guided to reflect on their reintegration goals from the first day of their imprisonment and chart their milestones and progress. Officers follow up with the inmates on their MAP entries and address possible challenges to their reintegration goals.

Through e-letters, inmates can maintain relationships and ties with their families and loved ones. In addition, compared to traditional post, e-letters have a shorter turnaround time and results in improved communication. DIRECT also plays an integral role in building their digital literacy, supporting their reintegration into society.
Research conducted by SPS shows that Community-Based Programmes (CBP), where ex-offenders spend the tail-end of their sentences in the community, are effective in preventing reoffending. The Community Corrections Command, a key component of the Prison Without Walls initiative, was set up in 2014 to shift the focus from rehabilitating inmates in prisons to supervising them safely in the community. Currently, about 1 in 4 inmates in Singapore serve the tail end of their sentence in the community, and they can be emplaced on different CBPs to help them transit to life after release.  

On top of the physical engagement sessions, supervisees who commenced their CBPs can also tap on the Self-Help and Rehab e-Application (SHARE), a mobile application commissioned by SPS. Via SHARE, supervisees can access rehabilitation content, browse the centralised job database for suitable employment, or seek housing and financial support from the community resource portal.  

SPS has also begun trials to automate the urine screening process for drug supervisees. Supervisees who undergo urine testing as part of their supervision conditions can do so at the self-service automated urine screening cubicles (registration, specimen validation and testing), which are unmanned and can operate around the clock while maintaining process integrity. 

SPS' latest transformation journey began in the early 2000s and has led to a decrease in the prison population from around 17,000 to 10,000 today. In the same period, the 2-year recidivism rate has halved from around 40% to 20.4% in 2022.  

With the permeation of technology into our daily lives, SPS seeks to exploit and expand digital solutions into the prison ecosystem to augment scarce manpower resources, enhance security and better meet the rehabilitation needs of the inmates. Technology will continue to be SPS key enabler to keep its prisons secure and inmates safe with low incidences of violence. Furthermore, given SPS lean manpower and low staff-to-inmate ratio, technology is critical to keeping recidivism rates low and Singapore safe.  

Dominic Fernandez is a Senior Assistant Director at SPS' Transformation & Technology Planning and Services. He has been with the Service for 18 years in various roles across prison institutions and community-based programmes, including several years in areas such as Strategic Planning and Offender Programmes. He takes pride in dedicating his career to rebuilding the lives of offenders and their families. Dominic holds a degree in Civil and Environmental Engineering from Nanyang Technological University and a Masters in Organisational Leadership from Monash University.