Context & Problem
---
With the recent passing of the First Step Act, in the United States, a bipartisan bill aimed at reducing incarcerated populations and focusing greater resources on recidivism reduction, the pressure on community corrections agencies has increased significantly. The new legislation rewards offenders for good behaviour by providing increased opportunities for early release and allows them to serve a greater portion of their sentence in the community. It is a positive development in the ongoing effort to successfully reintegrate offenders back into society.
This shift in correctional priorities has a direct and immediate impact on community corrections operations, particularly in terms of officer caseload. For the new legislation to achieve the desired long-term results, community-based offenders will require more frequent and more consistent contact with community corrections' officers as they complete the community portion of their sentence.
While the First Step Act will come with some funding to support the States, including greater community corrections staffing budgets, the increased caseload for every officer demands a reconsideration of current caseload management practices. The old approach of managing countless paper files and logging long hours behind an office-based computer screen will simply not deliver efficiency.
This challenge recalls one that we have helped address more than three years ago. The customer, a large agency in the Eastern US, had introduced policies to enable a greater number of qualified offenders to serve a longer portion of their sentence in the community. The operational impacts were broad and reflected directly on the information systems that form the digital foundation of the prison service.
In late 2014, on the heels of modernising its offender management system (OMS), the Agency's CIO knew he had to align his team's focus with changing operational priorities. Not only was it essential that the OMS adapted to sentencing rules, he needed to support more than 1,300 community corrections officers across more than 40 offices and administration centres as their caseload expanded dramatically.
"The challenge was obvious," said this experienced CIO. "We had just completed a multi-phased project to modernise our OMS across all institutional and community operations. A critical driver in that investment was the strategic need to centralise all data into a single, integrated environment to drive efficiency and aid decision-making. The shift towards managing more offenders in the community represented the first test for us. We needed to maintain alignment between our information strategy and operational priorities, but we could not introduce a stand-alone system to help community corrections officers manage an expanded workload."
Simultaneously, with a younger generation of community corrections officers entering into service, the CIO faced daily requests for a mobile phone-based application that would enable access to the OMS. Officers cited their expanded caseload and said they needed something that would help them manage it from the field.
They wanted easy access to information about their clients, an ability to receive up-to-date alerts, record and upload pictures on the spot, record notes from client meetings, and use GPS mapping to help manage routing. The CIO realised it was possible for a mobile app to address the workload efficiency question.
Yet from a financial and IT management perspective, it wasn't feasible to supply phones to every officer. Likewise, having seen rudimentary phone apps, he knew they wouldn't meet the security or OMS integration imperatives of the Agency.
"We knew we had to do something," he said. "But the thought of a new standalone application, after we had taken dozens of non-integrated silo systems off the market, was simply not going to fly with our executive leadership. There was nothing on the market to meet our needs, so we had to innovate. We turned to our OMS vendor, Abilis Solutions, to engage them in the challenge."
Solution
---
Historically, a decision to engage the OMS vendor in building a mobile solution would have required expensive custom development and a high ongoing cost of ownership, as there would be a constant need for updates based on frequently changing phone operating systems. The CIO made it clear that the Agency would be willing to invest in the solution, but the mobile app had to become part of their product strategy and be managed on their product roadmap. It was also imperative that the app be fully integrated into the OMS.
In early 2015, a joint Agency-Abilis collaboration identified a clear set of requirements and work commenced on a prototype application based on the iOS platform. Beyond the efficiency-based capabilities articulated by officers, the CIO's team also had to address a number of security considerations, such as two-factor authentication tied directly into MS Active Directory, and remote device management and wiping for situations when the phone might become lost or stolen. In addition, certain remote regions of the state had limited signal strength at best.
Results
---
By the middle of that year, after internal testing and validation, several dozen phones were equipped with CORIS® Mobile for use by officers in the field. The results were very encouraging, and the team began to demo the app to community corrections leadership in all regions. Quickly the CIO's challenge became one of managing and satisfying demand. "We knew we had a successful prototype, and the user appetite across the state was strong," he said. "But we couldn't rush. We couldn't afford to push the app enterprise-wide until we had done more technical validation and troubleshooting against a series of 'what-if' considerations. Data security and data integrity are the cornerstones of our information strategy, and CORIS® OMS is recognised by everyone across the Agency as the single source of truth. We certainly didn't drag our feet, but we weren't going to take shortcuts either."
That prudent approach fitted perfectly with the Abilis model. From their innovation centre in Montreal, the team worked directly with the Agency to test the application and establish a statewide rollout strategy. In the process, they identified several incremental improvements. "It was essential for us to demonstrate to users and leadership that we had already anticipated their feedback and had plans in place to address it in an intelligent, managed process," said the CIO.
By late 2015, more than 100 officers were using the first production release of CORIS® Mobile, and by early 2017, that number had increased to more than 500 users across all regions. Numerous updates to the application have been provided since then, including the ability to use the app on the Microsoft Surface tablet.
"The introduction of CORIS® Mobile, as a secure and efficient extension of the CORIS® OMS, has helped us manage a dramatically increased caseload without having to add significant numbers of new officers", concluded the CIO.
//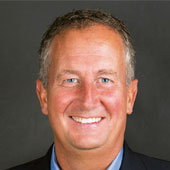 Ken McGovern is vice president for marketing and sales with Abilis Solutions. He has been actively engaged with the ICPA and the CTA for nearly 10 years and writes frequently on best practices in OMS modernisation. He has a Bachelor of Arts from the University of Arizona and a Master's in Business Administration from the University of British Columbia.
---