Project's background
In 2015, Finnish legislation enabled prisoners to gain digital access to social, educational and health care services and use video calls to contact their family and friends. This legislation aimed to guarantee access to the same civil services enjoyed by other citizens, in line with the principles of normality and equality. Between 2015 and 2017, the Finnish Criminal Sanctions Agency provided all units with joint-use workstations with limited access to the Internet and Skype. Prisoners also got access to the Moodle server for educational purposes.
Despite the progress made in that period, digital services remained limited and did not yet provide personal access or fully support the rehabilitation and reintegration of prisoners. That is why we started looking for a solution that we named the "smart prison concept". The aim was to create a concept that would support prisoners in following their sentence plans and support the overall strategic purpose of the Finnish Criminal Sanctions Agency to reduce re-offending and support the reintegration of prisoners into society.
The smart prison concept
In 2016, the Finnish Criminal Sanctions Agency launched a project to build a new prison for women offenders that would open on 1 November 2020. The idea was to create "the world's best prison for women offenders" and design the prison according to a new prison concept that included the smart prison concept: the prison as a genuinely digital learning environment. The new women's prison was supposed to be a pilot unit to test this kind of smart solutions, to see if we could implement it in all our units and digitalise the whole prison culture.
The Smart Prison project itself started on 1 October 2018. The intention was to provide inmates with personal cell devices, including a smart system in the new Hämeenlinna women´s prison. This personal cell device was designed to integrate, e.g. digital social, psychological, educational, health care services that could be used directly from each prison cell (100 prison cells). Another goal was to develop nationwide digital services for offenders in all our units, using joint-use workstations and preparing the units for future personal devices.
Process and solution
We started the project by analysing other smart systems used in prisons in Europe. We also conducted a survey for both staff and prisoners about the needs regarding digital services. Moreover, in 2019, we organised several workshops, for both staff and prisoners, on the premises of the old Hämeenlinna women's prison. We also had two proof of concept (POC) periods in two prisons to test the digital self-service device solutions of two different vendors. Based on the surveys, workshops and POCs, we defined functional and safety requirements for the cell devices and decided to choose a laptop model for the first smart prison roll-out, in Hämeenlinna. To prepare our staff for the smart prison, we organised nationwide training in digital guidance, e.g. in how to support offenders' use of digital services.
After a lengthy public procurement process in 2019-2020, we finally chose our smart prison solution provider. We developed the system in collaboration with the vendor, and security audited it to ensure compliance with safety requirements and the GDPR. Both staff and prisoners received training in using the new system, which was completed and implemented in the Hämeenlinna women's prison on 3 March 2021.
The prisoners have laptops in their cells and can use the system for messages, requests and video calls to contact the staff and to communicate with family and friends. The cell terminal has restricted access to the Internet (whitelist) yet allowing the prisoners to study via Moodle, do online shopping and access several other selected websites that support rehabilitation and management of daily affairs. The latter include websites of social and health care services and NGOs. Prisoners also have online access to e-books and audiobooks, and essential office tools for studying. They can also contact prison health care services and other authorities and cooperation partners, such as NGOs, by video calls. 
We have had various partners in the process of developing Smart Prison and its services. In February 2021, prisoners in Hämeenlinna started to learn basic digital skills by attending a course called "Digital Leap", organised by Kalliola Settlement Activities (an NGO). The cell terminals also provide access to the website of the Elements of AI – a course on artificial intelligence organised by the University of Helsinki and Reaktor.
Learning AI as part of the smart prison concept has also brought us international attention: we were featured in a documentary by Business Insider. Other key partners include the Finnish Foundation for Supporting Ex-offenders (Krits), which provides online video consultation, and Tampere University, which has supplied a virtual reality environment that supports the well-being of offenders.
The Smart Prison results and the future
So far, we have received positive feedback and good development ideas from both staff and prisoners using the new smart system. The new women's prison is a pilot unit where we test how digitalisation can support rehabilitation and modern prison culture. We hope that the results will show that the Smart Prison concept is a cost-effective and rehabilitative way to reduce re-offending and support reintegration with the help of the latest technology.
The Laurea University of Applied Sciences will research digitalisation and cultural change in the new prison, as part of the DigiIn research project of the Finnish Institute for Health and Welfare. If the experiences and results are positive, the Finnish Criminal Sanctions Agency will consider extending the Smart Prison concept to other closed prisons and digitalising the prison culture further.
As the COVID-19 outbreak in 2020 brought increasing needs for digital services in prisons, the Smart Prison project will continue and broaden its scope in the future. The pandemic and the preliminary results from the modernisation and digitalisation of offender rehabilitation and management have affected the strategy of the Finnish Criminal Sanctions Agency: our Data and Digitalisation Strategy will be redefined as part a broader organisational change that we will witness from 1 January 2022.
It can be said that Smart Prison marks a major leap in our prison system, both technologically and culturally. In the future, we will hopefully see more smart prisons and digital services supporting offender rehabilitation. The latest subproject in the Smart Prison project is called "RISE AI", and it will provide an artificial intelligence solution for offender management. We are confident that the smart prison concept and our Data and Digitalisation Strategy will yield results in the future.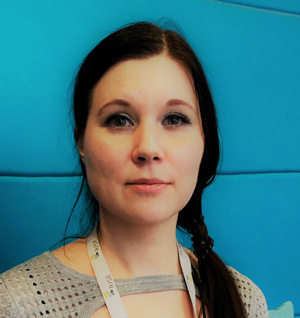 Pia Puolakka is the project manager for the Smart Prison project at the Finnish Criminal Sanctions Agency. She has been working for the Finnish Criminal Sanctions Agency since 2012, having started as a psychologist in prisons. Since 2017, she has been working in the central administration, where she first served as a senior specialist in rehabilitative services, including programme work, family work and psychological and spiritual services in prisons. Pia is a forensic psychologist and psychotherapist. She has also studied artificial intelligence. She is a Board member of the EuroPris ICT Expert Group.